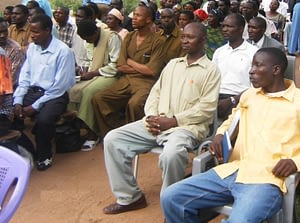 Our Vision
Passionate to equip pastors and leaders who serve in villages in East Africa community, effectively sharpening them to grow maturity in ministry and help them to grasp the concept of disciple making.
Our Mission
To Strengthen pastors and leaders who serve in villages to be committed and mature equipped for Great Commission that they will be able to:
To preach the truth of the gospel
To affirm that the Word of God and the only rule of faith and practice for the Church.
The uniqueness of Jesus Christ life may be more fully grasped and proclaimed and celebrated.
The basic Christian doctrines concerning the nature of God, man, sin, salvation and Great Commission may be more clearly understood by pastors in villages and more faithfully teaching the truth of the gospel in accordance with the Word of God.
OUR STRATEGY:
To take training to pastors and leaders in the village equipping them for the ministry and for the truth of the Word of God so that they may;
To be reminded (II Peter 1:12, 13)
To be renewed (Romans 12:1, 2)
To receive further instruction (Ephesians 1:17, 18)
To disseminate the Gospel of Jesus Christ and the Word of God to the end that people may be evangelized and believers may be conformed to the image of Jesus Christ throughout Tanzania and around Africa
To build a training center for pastors and church planters to learn several skills for ministry.
To build a culture of life and of love through education, outreach, and advocacy.
To partner with schools to provide Christian education, feed children, and improve sanitation and hygiene.